Page 1 Transcriptions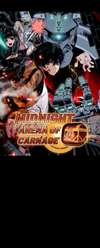 Page 2 Transcriptions
THE COMPETITION IS OVER. MAY THE VICTOR PLEASE LEAVE THE ARENA. SMUGGLING WEAPONS IS A VIOLATION OF THE RULES. SIX YAMA COINS HAVE BEEN DEDUCTED. What the hell?

Page 3 Transcriptions
YOUR BALANCE IS INSUFFICIENT. You swindler! Hm? If you don't want to die, follow the passage and enter my lounge.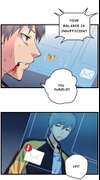 Page 4 Transcriptions
If you don't want to die, follow the passage and enter my lounge.

Page 5 Transcriptions
Welcome! Greetings from hell. S...save me... Don't worry, you won't die just yet.

Page 6 Transcriptions
Iadvise that you be more careful in the future. You've already offended most of the competitors here. What? Because those who bet that you'd lose... lost big time. I watching your match. The results were, uh, rather unexpected.

Page 7 Transcriptions
What? Trigger my ability? What exactly just happened? That'sstrange. Strange, strange, strange. fwoom... Oh? Is this your first time? How strange... Tell me. How do you trigger your ability? Blip!

Page 8 Transcriptions
Ah... Badump! Doc, I...I can't take it anymore... Tch,I'm not a doctor. The holy career of Saving people doesn't suit me at all. Pow!!! People call me the Scapel!

Page 9 Transcriptions
What? Danger And myability suggests that you should never use that ability again. Can't you heal? Hm...Your body seems to be different from other people. My ability can't detect your breathing problem.

Page 10 Transcriptions
I may not be able to save you next time. You... Whatkind of treatment is this?

Page 11 Transcriptions
Bam Wait! Get me an anesthetic! Oh~ I forgot to mention. My greatest pleasure is admiringthe expression people make on this operating table. Anesthetics would get in the way of that, now, wouldn't it? This might hurt a bit, so bear with it. Haha, ahahahaha Bam...

Page 12 Transcriptions
Ahhh!You'recrazy! Swish!!!

Page 13 Transcriptions
Ahhh!!! Then I'll be taking three of your Yama coins. No need to thank me... Mwhaha! The treatment is complete! Oof! Swish Swish Swish... Pay Ahhh... Bam! Bathump!
Page 14 Transcriptions
Oh my god! This medical treatment is miraculous! T...then, can you help me treat my strange disease? And I'll need Yama coins for the system to treat me, yeah? You don'thave aweapon...That won'tdo. My deepest apologies. My hands are tied. I can only treat physical wounds. As for your disease, I'm afraid only the system can treat it. That's right. Do you want to fight another match?

Page 15 Transcriptions
That means there's hope, right? So, what do I have to do to get a weapon? Simple. Just say something like "Weapon Summoning Selection System." Ooh? Bam! Weapon Summoning Selection System?

Page 16 Transcriptions
It's a blind lottery system? Fwoosh... Damn! I only have one point?! So, the wooden box is my only option, huh? What kind of weapon will come out? Balance: 1

Page 17 Transcriptions
Ahhhh! This weapon is useless!!! Click!

Page 18 Transcriptions