Page 1 Transcriptions
image 15 MARCO B. BUCCI NOMEN brand JACOPO CAMAGNI OMEN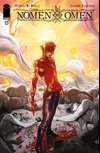 Page 2 Transcriptions
PS SPLOCA GRRRROWL wawwunm MAMADA SWISH THUMP P - PATHETIC . SESSH THIS IS HOW YOU THINK YOU'LL BEAT ME ?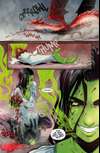 Page 3 Transcriptions
YOU CAN'T DO A DAMN THING AGAINST MY MAGIC ... ... I NOW EXIST IN AN ENTIRELY DIFFERENT LAYER OF ABSTRACTION ! NO ONE COULD HOPE TO ERASE ME FROM THIS REALITY ! D FWHOM BOMAN TEAR ME APART AS MUCH AS YOU WANT ... ... THIS BODY IS NO LONGER ALL THAT I AM ! _ bnezoev ვეტს SKREEEEE ! TAR mastur TZINK AND YOU'LL BE THE FIRST TO PAY FOR ALL I'VE LOST !