Page 2 Transcriptions
MANY YEARS AGO . ARE WE RECORD INGZ THE CAMERA ISN'T ON YET , NO . GOOD . I WASN'T READY YET . YOU'RE NERVOUS . HAVING SECOND THOUGHTS ? NO , NO ... THERE'S NO TURNING BACK NOW , IS THERE ? IT'S ONLY A TEST JEDIDI AH . LIKE ALL THE OTHERS . WE CAN STOP AT ANY POINT . MONICA THORNE INITIATING TEST # 66-1 OF THE JEDIDIAH EXPERIMENTAL STEM CELL , IN WHICH I WILL OBSERVE THE EFFECT OF THE JEDIDIAH ON DAMAGED BRAIN TISSUE FROM A PRIMATE RE CORDING NOW : IN PREVIOUS TESTS , THE CELL NOT ONLY ADAPT ED TO SURROUNDING TISSUE , BUT IT PERFECTLY REPLICAT ED MISSING LIMBS , ORGANS , HAIR , EVEN BIRTHMARKS . THE CELL SEEMS TO REQUIRE ONLY TWO THINGS TO OPERATE : THE VOICE AND PRESENCE OF ITS CREATOR JEDID TAH JENKINS , WHO IS PRESENT WITH ME NOW . BEEP ! INUTIA " TEST BEEP ! ALL RIGHT , THEN . INJECTING THE JEDIDIAH CELLS INTO THE DAMAGED TISSUE .. NOW .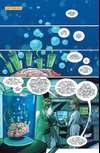 Page 3 Transcriptions
DOESN'T USUALLY TAKE THIS LONG SHHH . MAYBE TRY TALKING TO IT . THAT ALWAYS WORKS , OH , RIGHT . THE BRAIN IS NOT AN ARM OR A TOE , JEDIDIAH . IT'S THE MOST COMPLEX STRUC TURE IN THE KNOWN GIVE IT UNIVERSE MORE THAN TEN SECONDS WILL YOU . THERE WE ARE . THE OCCIPITAL LOBE JUST LIT UP LIKE A CHRIST MAS TREE IT --- IT'S WORKING ! I CAN SEE IT MONICA ! WE DID IT !