Page 1 Transcriptions
モツ 哀歌 Chapter 4 : The Emergency Call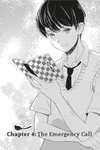 Page 2 Transcriptions
ITE OKAY , STUDENTS ! IT'S TIME FOR YOUR CLEANING DUTY . PLEASE DO A THOROUGH JOB ON THE AREA YOU'VE BEEN ASSIGNED . WE'RE CLEANING THE SCHOOLYARD NEAR THE BACK GATES . OKAY !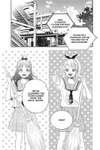 Page 3 Transcriptions
I THINK IT'S GOOD THE STUDENTS AT YOUR SCHOOL HAVE TO CLEAN EVERYTHING THEMSELVES . AT HOME , EVERYONE JUST THROWS THEIR TRASH WHEREVER ... AND EXPECTS SOMEONE ELSE TO GET RID OF IT . INSTEAD , YOU'RE ALLOWED TO GO HOME RIGHT AFTER SCHOOL ! THAT'S NICE TOO . HEY !