Page 1 Transcriptions
Chapter 5 Blue Rose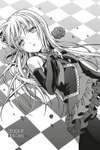 Page 2 Transcriptions
HAH ... LISA - CHI , IS IT TRUE THAT YOU'RE IN A BAND WITH MY OLDER SISTER ? OUR LIVE SHOW IS TOMORROW . HUH ? OLDER SISTER ? AH ... он , , RIGHT ! YOU'RE A TWIN . WHICH MEANS ... 154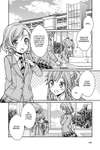 Page 3 Transcriptions
SAYO HIKAWA IS YOUR OLDER SISTER ! ? WHY DOESN'T SHE TALK TO YOU ABOUT IT ? I DON'T MIND , BUT ... SHE NEVER TELLS ME ANYTHING , SO WILL YOU KEEP ME UPDATED ? он , THAT'S NOT IMPORTANT DOES SHE LOOK LIKE SHE'S HAVING FUN ? I WANT TO KNOW WHAT SHE'S LIKE WHEN SHE'S WITH YOU GUYS . IS SHE HAPPY ?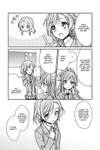 Page 4 Transcriptions
HUH ? UH ... I DON'T THINK SHE'S ANY DIFFERENT FROM USUAL . SAYO'S LITTLE SISTER IS IN MY CLASS ! YEAH . ISN'T THE WORLD SMALL ? I SEE ... NOT YET . BY THE WAY , DID YOU EVER THINK OF A BAND NAME ?