Page 1 Transcriptions
999 111 Chapter 4 I ... Can Play !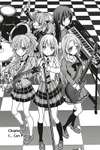 Page 2 Transcriptions
IT'S BEEN A WEEK ALREADY Cil WHAT SHOULD WE DO ? WE CAN'T FIND A KEY BOARDIST ... CIRCLE CIRCO WE WERE LUCKY TO FIND FOUR MEMBERS SO QUICKLY . I DON'T WANT TO COMPROMISE ON ANY NEW MEMBERS . THAN HAVING A KEYBOARDIST WHO SUCKS . YEAH . HAVING NO KEYBOARD IS BETTER ...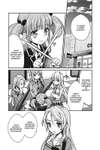 Page 3 Transcriptions
THOUGH WE WROTE OUR ORIGINAL SONG ASSUMING THAT WE'D HAVE ONE ... YEAH ... DON'T YOU WANT ... PEOPLE TO HEAR THE SONG YOU CREATED WHEN IT'S AT ITS BEST ? АН ! ME TOO ! I WANT TO FIND MY PERSONAL GOAL ... I HAVE WAIT A A LOT OF SECOND ! FRIENDS SO I'LL JUST CONTACT ALL OF THEM AND SEE IF THEY KNOW SOMEONE WHO PLAYS ! AND MY OWN DEFINITION OF " COOL " !