Page 1 Transcriptions
0 ** Ho ho - ho Shugo Chara Chan ! So now I'm being careful about ultraviolet rays . I was young and reckless . From Her " Black Daiya " Períod LED I had a bad experience at a tanning salon once ... That was from a tanning salon !? ENTER DAIYA !! I wonder if we'll meet anyone ? I think you will ! TAF What's with that outfit !? TA - DA ! April is the season of new encoun ters ! Daiya !?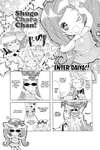 Page 2 Transcriptions
Good idea ! Thank you . Especially trying to blow dry it ... Yeah , so have we !! It's Such a Nuisance ! I''t VOOOSH * Kyaaaa ✰✰ Let's compliment her to break the ice . Daiya , your hair is so long and pretty ! Happens to all Guardian Characters But taking care of it is such a nuisance ... I've been blown away a couple of times ... Just a little I'm a little nervous . Hold on a sec ! RUB RUB om My character is supposed to always be shining !! How Could you ... RUB • Ba Rustling Sound ゴシゴシ Oh ! We've never really all been Kills Germs For Shiny Clean together before ... No ! Hands ! Well , since we're going to hang out , let's shake hands ... What a snob !!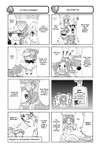 Page 3 Transcriptions
So you like anything shiny !? Shiny ♥ WOW I love shiny things . The shiny stars ! Shiny jewels ! Kyaaa ! And shiny ... How myste ríous ! SPACE Hard to Read I can never tell what Daiya is thinking . Right now it looks like she's spacing out ... But maybe she's thinking all about her hopes and dreams ... Actually wasn't thinking about anything .