Page 1 Transcriptions
Chapter 1: Qingyun Sect Original Author: Xiao Ding Editor: Wang Peng Writer: Xiao Kuan Lining: Li DaColoring: Li Chao, Chen hongyu, Li Xiaowen, Luo leilei3D: Yu Fei, Wang huanWork by Tianjin Animation studio (studio9) Art Development Co., Ltd.

Page 2 Transcriptions
Among the seven peaks of Qingyun, Sky Reaching peak is the only one that hasn't been taken over by enemies. Until thirteen hundred years ago, when Paragon Qingye founded the best killing formation in the world... Ever since the founder of Qingyun sect, grandmaster Qing Yunzi passed away, Qingyun sect had declined. It had been pushed around by all the other factions. Even the sect's territory had been taken away.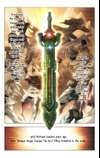 Page 3 Transcriptions
Celestial Destroyer Sword Formation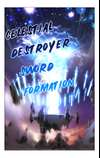 Page 4 Transcriptions
It instantly destroyed all the enemies on the six peaks of Qingyun mountain, And turned the tide.

Page 5 Transcriptions
Wow! That's amazing! ...... Since then, qingyun sect has been prospering. After 50 years, we became the pillar of justice. 200 years later, we became the leader of all the righteous sects...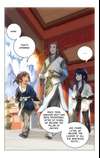 Page 6 Transcriptions
Look ahead. That's the gate to yuqing mansion! Come on, let's get in. Woah! I didn't know that such huge gates existed! ......
Page 7 Transcriptions
Woah! In front of us is one of the six sceneries of qingyun, the "Ocean of clouds". It's like a fairyland~ This place is ridicu-lously huge...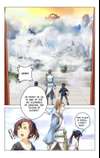 Page 8 Transcriptions
qingyun mountain is a place with extraordinary talents. Every year, countless people want to become qingyun sect's disciples. Except for the main peak, the other six peaks all have outstanding disciples of their own. They must be super strong, right? Of course! I wish I'll become a disciple of qingyun sect...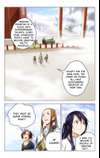 Page 9 Transcriptions
It's not that difficult to join our qingyun sect. However, you'll need enough patience and good under-standing. Look, We've arrived at another scenery of qingyun- the rainbow bridge! Amazing! Holy moly! Be careful, you two! If you fall off here, all of your bones will be crushed!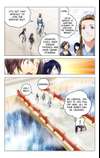 Page 10 Transcriptions
Rumble Rumble Rumble Rumble ......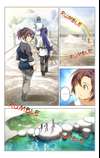 Page 11 Transcriptions
Hey, did you hear any strange noises? ? Rumble SPLASH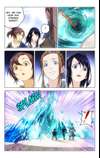 Page 12 Transcriptions
W-w-w-w-w-what is that!? Aahhh!! Grrr! Waaahhhh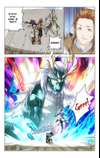 Page 13 Transcriptions
Spirit Lord, They were summoned here by the masters. ...... ......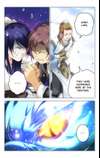 Page 14 Transcriptions
Turn around ...... It's okay now. Keep going. when grandmaster qingye was trying to restore qingyun sect's glory, that water qilin was his right hand. We all call it the "Spirit Lord". salute Xiaofan, let's go~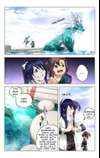 Page 15 Transcriptions
Master... I've completed your order...

Page 16 Transcriptions
demon! An evil demon!! That voice... Uncle wang! Uncle wang, is that you?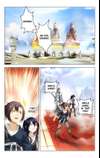 Page 17 Transcriptions
demon... demon... Uncle wang! It really is you! What on earth happened last night?! Why are all the villagers dead?! demon... demon... What happened? Where's my dad? Where's my mom?!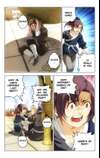 Page 18 Transcriptions
Stop asking, it's useless... ...... He has already gone mad! Sigh... Xiaofan, come here! Paragon DaoxuanMaster of qingyun sect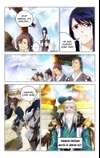 Page 19 Transcriptions
Sir paragon. The two of us might be young, but we know that this is a serious matter! You can see through both the past and future. So please, do something! ...... Y-yeah, grandpa god! Please help us, grandpa god! Eh... Grandpa god... Pfft ...... I can't see through the past or future. temple village is at the foot of qingyun mountain. Of course we'll act on that tragedy. Speaking of which, the entire village had been slaughter, and you are the only survivors... Smile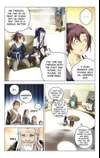 Page 20 Transcriptions
Sir paragon, I have no idea what happened. I was woken up by xiaofan. When we returned to the village, we saw... It seems that you know nothing about last night's incident... ...... I-I have no idea either! I saw jingyu next to me when I came to my senses, so I woke him up right away! Song daren! I'm here, sir!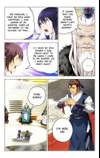 Page 21 Transcriptions
You were the first one to notice the incident at temple village. Tell us what you saw. Yes, sir. This morning, when we returned from our errand... Senior, look below! We were riding our swords when we noticed that temple village was a bloodbath. There were bodies everywhere! So we immediately went over to check. god...! What happened?! Let's get down and check!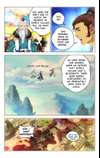 Page 22 Transcriptions
How awful... These two kids are still breathing! Who did this? How could they be so cruel! Hurry! ...... Later, we also found uncle wang who had already gone mad next to the village's latrine. Mister, have you counted the number of corpses?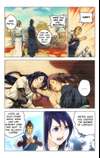 Page 23 Transcriptions
...... The 42 households of temple village, except for the three of you, are all dead!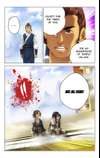 Page 24 Transcriptions
...... master, although You've put them to sleep with the Sedative orb, What should we do with them when they wake up? Tian BuyiChief of Great Bamboo Peak Buzz Swish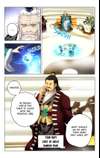 Page 25 Transcriptions
Cangsong, what do you think? It will take us a while to get to the bottom of this. We can take them in as disciples. Good, it's just like my idea. I wonder who's willing to take them in? It's just that these two kids have gone through such a tragic event, we'd better split them to different places. It'll be bad for them if they remind each other of the past! ...... Master, my Great Bamboo Peak only has a small amount of disciples. I'll take one of them in!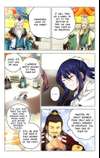 Page 26 Transcriptions
Master, I feel that fate has brought the child jingyu to me. What? Shang Zheng-liang Chief of daybreak Peak How about he becomes my disciple? Senior shang, your peak has more than 200 disciples. If fate has brought every one of them to you, then your fate must be pretty busy! ...... Seniortianyun is right. Speaking of the number of disciples, my Great Bamboo Peak only has seven. How about... Junior Tian, these two children has just suffered a great tragedy. We need to take care of them as good as we can, not to argue about who has fewer disciples. Paragon CangsongChief of Dragon head peak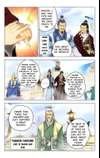 Page 27 Transcriptions
Master! It's over! I can recognize this boy's talent. I'm willing to take him in and do my best to guide him, So that the deceased villagers can rest in peace. well, As for the other boy... Well said, junior cangsong. Then I'll let him join your peak.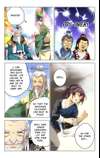 Page 28 Transcriptions
Who wants that idiot! ...... I should avoid eye contact at a time like this... Caw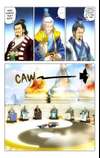 Page 29 Transcriptions
Junior tian... It was your disciple who noticed the incident at temple village, So fate must have brought this kid to you. Take him to your peak! Master, I... ...... ...... Dismiss!
Page 30 Transcriptions
Song daren! Bring him back! yes, master! Take care, master. Swoosh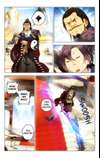 Page 31 Transcriptions
Little junior, I still don't know your name yet.