Page 1 Transcriptions
Magic Well you see , since hell is in a semi - physical plane of existance people are able to It's magic ! stop woah !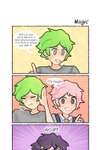 Page 2 Transcriptions
there's a lot of cool things to do with magic here ! especially if you're powerful , like me nods nods you're really just accepting that ?